It's a no-brainer that all businesses today need a strong web presence. Over 4.5 billion people use the internet globally, so if your brand isn't online, you could be missing out on a huge opportunity for more traffic. But did you know that the average website isn't properly optimized to reap all the benefits from that potential traffic?
We all wish there was a field of dreams, that when you build it, they will come. It just does not work that way. There is no field of dreams with most websites. And NOT ALL websites are created equal. Face the facts, your website may be amazing to you, but do your customers get it?
When your website is designed to act as a sales funnel, it benefits both the end-user and your business all in one. A sales funnel is a marketing method that helps move your prospects through the sales process. In to the top, and move them through your desired actions they take. Not only does it improve the user experience, but it's also specifically designed to convert more visitors into customers using a specially strategized and automated process.
Do you want more results from your brand's website? Here are a few benefits you can expect when you transform your site into a funnel:
Clear & Easy Navigation
A website funnel can be designed on a single, easy-to-navigate page. People are accustomed to scrolling with never ending scrolling, websites that just keep adding more and more and more and more, no clicking necessary to go from page to page. So obliged them. One Page, with everything they need to see.
On a standard website, there can be as many as 10+ different links in the navigation bar.
This structure turns your website into a maze of clicking and searching for visitors to actually find what they need. Think about what a nightmare this would be to navigate on a mobile device! You only have about 10-20 seconds to capture your visitors' attention, and if they're wasting that time on confusing navigation, it's likely they won't find what they're looking for and will end up clicking away from your website to look elsewhere.
With a funnel, you solve this issue by making it simple for your web visitors and prospects to scroll seamlessly down the page. This way, they can easily get all the information they need to know about who your brand is, what you stand for, the value you provide, and why your business offers them the best solution compared to your competition! Also, add a way for people to talk to you WHILE they are on your website! We have a way to do this, so schedule a free consultation and we will show you it.
Mobile Optimization
Not only does user-friendly scrolling make your website simpler to use overall, but it also makes your site mobile-friendly. Mobile users account for about 40% to 55% of all web traffic, so optimizing your site for mobile users is a huge opportunity to increase your conversions. If 55% are on Mobile, 45% are on computers. On Computers can they click your phone number to call? not usually. Most computers do not have a phone system on them to call you.
So as we said above, have a way for people on computers to be able to call you WHILE they are ON your website! Even if a funnel page. Your Website should be able to work on Cell phones, but don't make it where people on desktops cannot talk to you.
Actionable Steps
A website funnel utilizes strategic calls-to-action where they make the most sense in your prospects' buyer's journeys.
Think about it: you wouldn't want to bombard your web visitors with pushy sales pitches when they haven't gathered enough information to make a sales decision yet. Another common mistake is only providing a vague "contact us" on your website, rather than providing your users with a specific solution for their current needs.
Instead, your website should include up to 10 CTAs that are intentionally placed to help guide your potential customers naturally through your sales funnel. This way, you are always providing the most useful step for your prospects at the right time.
One incredibly powerful tactic you can implement as a CTA is a lead magnet. This is an irresistible free offer that will instantly deliver value to your prospects while positioning you as an industry leader they can trust with their business.
Strategizing your CTAs will improve the user experience for your audience, and at the same time, you can look forward to gaining more email sign-ups, subscriptions, appointments, sales, and, most importantly — loyal customers.
Tracking Conversions
One of the most important methods you can implement into your website is to always be on the lookout for ways to improve it. With a funnel, you can analyze your website's data and track the number of visitors that click through specific CTAs, and pinpoint the areas in your funnel that are working well vs. the areas that could use improvement.
Another invaluable way to continue improving your sales funnel is to utilize A/B split testing. By doing this, you can segment your web visitors, show each group a different variant of your website funnel, and use the resulting data to identify the strategies that your audience best responds to.
Also you can use a Heat Mapping, so you can see where people are looking, what they read the most, where they click the most, etc. It helps you know what you should be focusing on, and get rid of stuff people never read or click on. Get it better!
How We Can Help
Creating a website that implements all the proper strategies designed to convert your visitors into customers is no easy feat. If you're ready to earn more conversions for your business, contact us today! We look forward to transforming your website into a streamlined funnel that turns over new conversions and revenue for your business. You can Schedule a FREE Consultation here.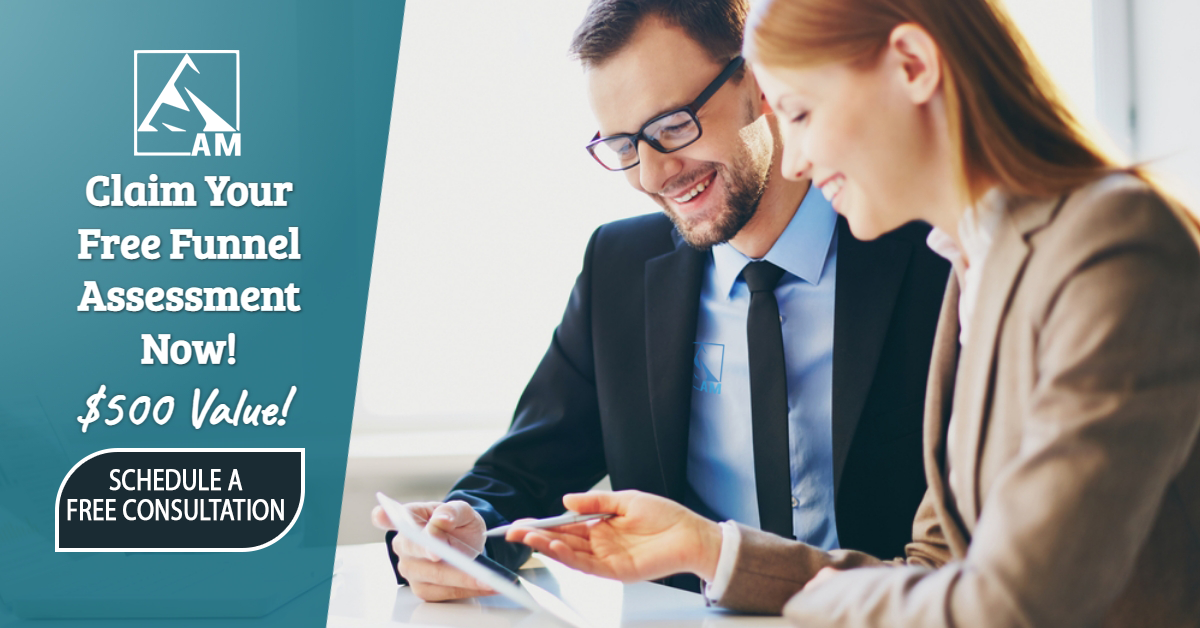 Just give us a call and we are here to help. 405-246-9647